Welcome to the
ENDGAME PLAN DOCUMENT WEBSITE
What "they" don't want you to see !!!!
Much less READ. They don't want you to know
about the concentration camps either!!
Office of Detention and
Removal Strategic Plan of YOU
as an individual
2003-2012 timeline
Detention and Removal Strategy
for a "Secure" Homeland WITHOUT
you as an individual!!
Go this way to get started on reading
and
consider yourself warned.
Don't forget to visit the www.endgameplan.net blog
for news, threats and censorship tactics against the
EndGame Plan Document Website.
Use this banner to link back to the site.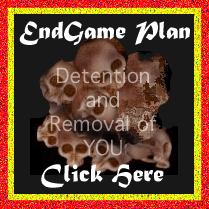 Html code for the banner is in the box below:
<a href="http://www.endgameplan.info/"><img src="http://www.endgameplan.info/endgameplanlinkback.png" width="209px" height="209px"
border="1"></a>